Pondering the knuckles

17/07/2021 - 20/07/2021
Galerie de Maaskoe
Part of the Urschleim exhibition


These works were part of the Urschleim exhibition, a series of 4 exhibitions at Maaskoe Galerie in Rotterdam. In the second exhibition, I exhibited with the artist Isa van Lier at the Maaskoe Galerie. I explored the idea of animating the death to form new, artificial lifeforms. Two branches were shaped into animated limbs pondering on the floor by using motors from the car scrapyard, rocks and parts of scrap metal. These motors were programmed to move sporadically and placed facing eachother, creating a dialogue.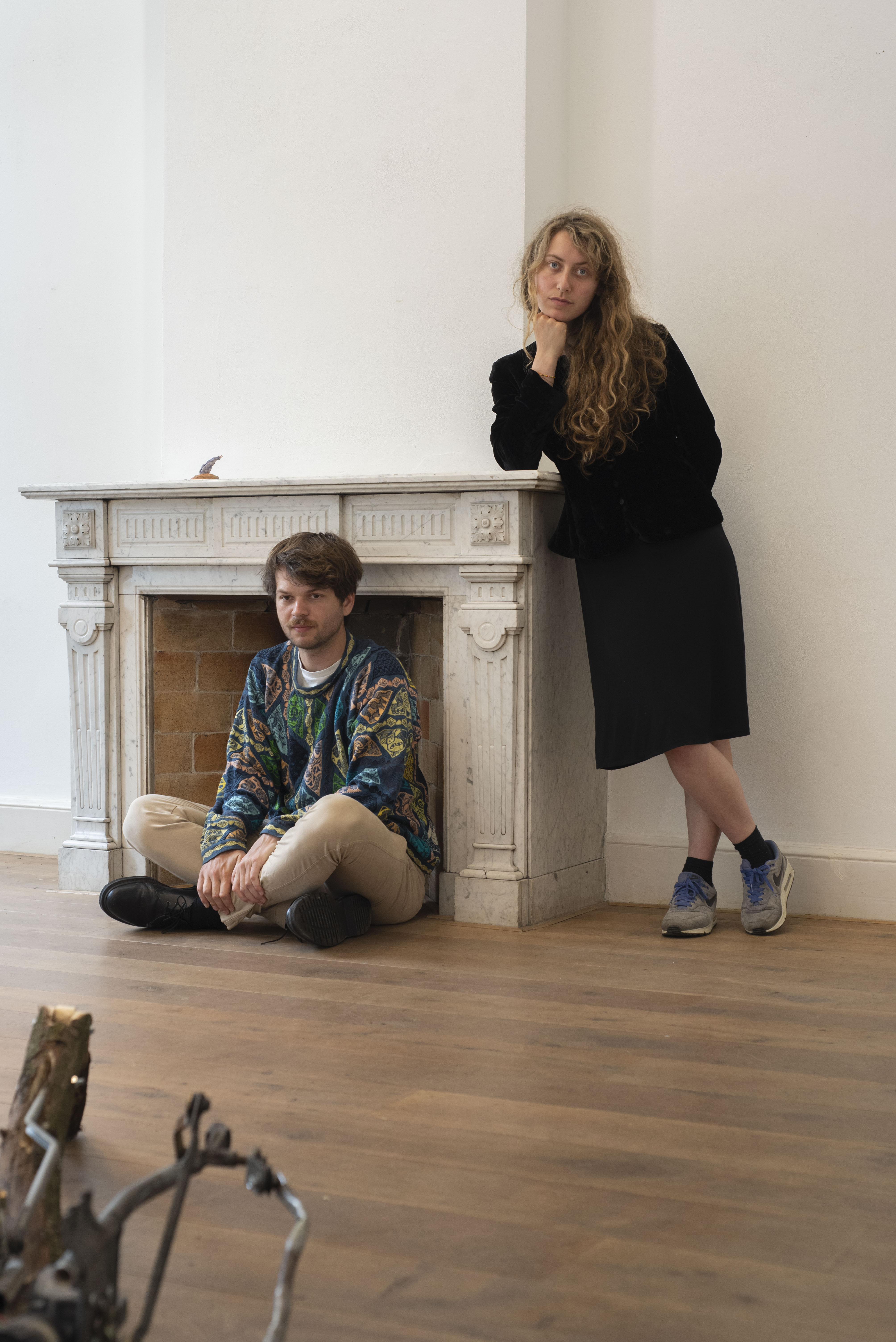 Opening Day with Isa van Lier
Photo by Christobal Pereira




CODE


#include

float x;
int o3, o5, o6, i, loopnum;
const int Reset = 4;
int i2 = 0;
//const int potPin1 = A0;
//const int potPin2 = A1;
//const int potPin3 = A2;
//const int potPin4 = A3;
//const int potPin5 = A4;
const int motorPin1 = 3;
const int motorPin2 = 5;
//int scene;
long previousMillis = 0; // will store last time LED was updated
long previousIntervalMillis = 0; // will store last time LED was updated
long previousWichelThresholdIntervalMillis = 0; // will store last time LED was updated
long previousRoedeThresholdIntervalMillis = 0; // will store last time LED was updated
// the follow variables is a long because the time, measured in miliseconds,
// will quickly become a bigger number than can be stored in an int.
long interval = 200;
long interval_interval = 1600;
long wichel_threshold_interval = 150;
int wichel_threshold = 160;
long roede_threshold_interval = 100;
int roede_threshold = 160;
byte perm[] = {151, 160, 137, 91, 90, 15, 131, 13, 201, 95, 96,
53, 194, 233, 7, 225, 140, 36, 103, 30, 69, 142, 8, 99, 37, 240, 21, 10, 23, 190, 6,
148, 247, 120, 234, 75, 0, 26, 197, 62, 94, 252, 219, 203, 117, 35, 11, 32, 57, 177,
33, 88, 237, 149, 56, 87, 174, 20, 125, 136, 171, 168, 68, 175, 74, 165, 71, 134, 139,
48, 27, 166, 77, 146, 158, 231, 83, 111, 229, 122, 60, 211, 133, 230, 220, 105, 92,
41, 55, 46, 245, 40, 244, 102, 143, 54, 65, 25, 63, 161, 1, 216, 80, 73, 209, 76, 132,
187, 208, 89, 18, 169, 200, 196, 135, 130, 116, 188, 159, 86, 164, 100, 109, 198,
173, 186, 3, 64, 52, 217, 226, 250, 124, 123, 5, 202, 38, 147, 118, 126, 255, 82, 85,
212, 207, 206, 59, 227, 47, 16, 58, 17, 182, 189, 28, 42, 223, 183, 170, 213, 119,
248, 152, 2, 44, 154, 163, 70, 221, 153, 101, 155, 167, 43, 172, 9, 129, 22, 39, 253,
19, 98, 108, 110, 79, 113, 224, 232, 178, 185, 112, 104, 218, 246, 97, 228, 251, 34,
242, 193, 238, 210, 144, 12, 191, 179, 162, 241, 81, 51, 145, 235, 249, 14, 239, 107,
49, 192, 214, 31, 181, 199, 106, 157, 184, 84, 204, 176, 115, 121, 50, 45, 127, 4,
150, 254, 138, 236, 205, 93, 222, 114, 67, 29, 24, 72, 243, 141, 128, 195, 78, 66,
215, 61, 156, 180
};

void setup()
{

digitalWrite(4, HIGH);
delay(200);
pinMode(4, OUTPUT);
delay(200);
i2 = 0;
Serial.begin(9600);
pinMode(3, OUTPUT);
pinMode(5, OUTPUT);
}
int NewValue;
void loop()
{
unsigned long currentMillis = millis();

if (currentMillis - previousMillis > interval)
{
// save the last time you blinked the LED
previousMillis = currentMillis;
x = float(currentMillis) / 200.0f;
o5 = fastFloor(128 * generate(x + 5728) + 128);
o6 = fastFloor(128 * generate(x) + 128);
o3 = fastFloor(128 * generate(x + 19082) + 128);
int OldRange = 255;
int NewMin = 25;

loopnum = map(o6, 0, 255, 20, 300);
for (i = 0; i < loopnum; i++)
{
int wichel = wichel_func(o3, wichel_threshold);
int roede = roede_func(o5, roede_threshold);
if (wichel > 150) {
digitalWrite(motorPin1, HIGH);
} else {
digitalWrite(motorPin1, LOW);
}
analogWrite(motorPin2, roede);
Serial.println(wichel);
if (currentMillis - previousIntervalMillis > interval_interval)
{
// save the last time you blinked the LED
previousIntervalMillis = currentMillis;
interval = map(o5, 0, 255, 200, 1200);
}
if (currentMillis - previousWichelThresholdIntervalMillis > wichel_threshold_interval)
{
// save the last time you blinked the LED
previousWichelThresholdIntervalMillis = currentMillis;
wichel_threshold = random(120, 220);
}
if (currentMillis - previousRoedeThresholdIntervalMillis > roede_threshold_interval)
{
// save the last time you blinked the LED
previousRoedeThresholdIntervalMillis = currentMillis;
roede_threshold = random(120, 220);
}

if (i2 > 10000) {
Serial.println("Resetting now");
delay(200);
digitalWrite(Reset, LOW);
}else{
i2 ++;
Serial.println(i2);}
}}


}

float generate(float x)
{
int i0 = fastFloor(x);
int i1 = i0 + 1;
float x0 = x - i0;
float x1 = x0 - 1.0f;

float n0, n1;

float t0 = 1.0f - x0 * x0;
t0 *= t0;
n0 = t0 * t0 * grad(perm[i0 & 0xff], x0);

float t1 = 1.0f - x1 * x1;
t1 *= t1;
n1 = t1 * t1 * grad(perm[i1 & 0xff], x1);
// The maximum value of this noise is 8*(3/4)^4 = 2.53125
// A factor of 0.395 scales to fit exactly within [-1,1]
return 0.395f * (n0 + n1);
}

int fastFloor(float x)
{
return (x > 0) ? ((int)x) : (((int)x) - 1);
}

float grad(int hash, float x)
{
int h = hash & 15;
float grad = 1.0f + (h & 7); // Gradient value 1.0, 2.0, ..., 8.0
if ((h & 8) != 0)
grad = -grad; // Set a random sign for the gradient
return (grad * x); // Multiply the gradient with the distance
}


int roede_func(int raw_value, int threshold)
{
int NewValue;
if (raw_value < threshold)
{
NewValue = 0;
}
else
{
NewValue = map(raw_value, 120, 255, 140, 250);
}
return NewValue;
}

int wichel_func(int raw_value, int threshold)
{
int NewValue;
if (raw_value < threshold)
{
NewValue = 0;
}
else
{
NewValue = map(raw_value, 120, 255, 140, 250);
}
return NewValue;
}